Our range targets are available with your own imprint. You can choose your own text and image for your range target. We will design it for you free of charge. During golf tournaments, you can choose to have the fabric replaced with the company logo of the organising company. Our range targets are robust and can be fixed into the ground with ground pegs to ensure that the range target stays in place.
Golfflags.com range targets keep golfers focused, help them develop their skills and make practising fun.
For golf courses, the golf targets offer new opportunities to generate income from advertising and sponsorship. The fabric can be replaced easily.
Buying range targets
Make your choice of a target with fabric, a target fabric only or a target frame only. You can now choose the size of your range target. Download your working drawing for the design of your range target or let us produce this for you free of charge. By placing your product in the basket and finalising the ordering process, it is simple to buy your range targets. The prices of the various sizes are listed on the product pages.
Printing range targets
The range targets are made from PVC fabric. The imprint is printed digitally in full colour. You can supply your own designs for the range targets or ask us to do this for your free of charge. If you would like us to design your range target free of charge, upload or email us files such as logos, colour codes and images of what you would like to place on the range target. We will then email you a design that you can have manufactured. We will only start production after you have approved the design.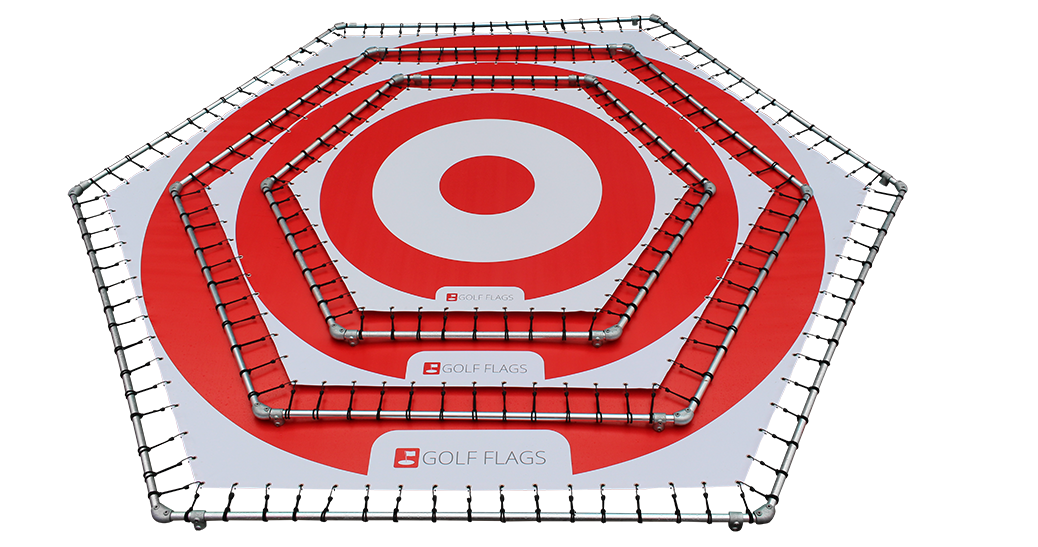 Ordering range targets
Range targets can be ordered easily:
1. Choose your preferred style;
2. Choose the quantity;
3. Add your personal wishes in the designated field 'remarks';
4. Download your working drawing and complete this, or let us design it for you free of charge:
5. Upload your files;
6. Order your pop-up banners and pay securely.
Prices of range targets
The prices of the range targets depend on the style and the quantity you would like to order. Choose your product, and you will see your price on the product pages. Because of our automated production process, we can supply both small and large quantities at very low prices. Golfflags.com supplies competitively priced range targets of exceptionally good quality.
Why order range targets at Golfflags.com?
We love to supply your range targets. We do our utmost to keep our customers satisfied and deliver exceptional quality. Golfflags.com stands for:

- Guaranteed top quality;
- Large choice of models, sizes, materials and options;
- Focus on durability;
- Low prices;
- Personal contact;
- Secure payments;
- Fast delivery;
- Simple set-up.
For questions or advice, contact us via +31 (0) 85 401 4648 or email [email protected].