The Green flags can be ordered individually or as a set. We supply fantastic quality Green flags at very low prices. Standard golf flags are always available from stock. You can have your logo printed onto the flag. The Green flags are available in plain, numbered, semaphore, checkered and semaphore numbered flags. The flags are made from Nylon, weather-resistant, hemmed all around and double stitched.
Buying Green flags
Above, select the style you would like. Then you can select your wishes on the flags' product pages. Golfflags.com offers you the opportunity to buy your Green flags online. We can supply both standard and custom Green flags. The prices are clearly marked next to the flags.
Printing Green flags
The Green flags are made from very high-quality polyester, hemmed all around and double stitched. The imprint is printed digitally. Lines and numbers are accentuated further by embroidering them. This results in a stylish and luxurious appearance. You can choose to design your own Green flag, or we can do that for you free of charge. If you would like us to design your Green flag free of charge, upload or email us files such as logos, colour codes and images of what you would like to place on the Green flag. We will then email you a design that you can have manufactured. We will only start production after you have approved the design.
Logos and text are also printed digitally and in high definition on the Green flags. You can also choose to have your logo or text embroidered on the golf flags. Below some close-ups of our Green flags.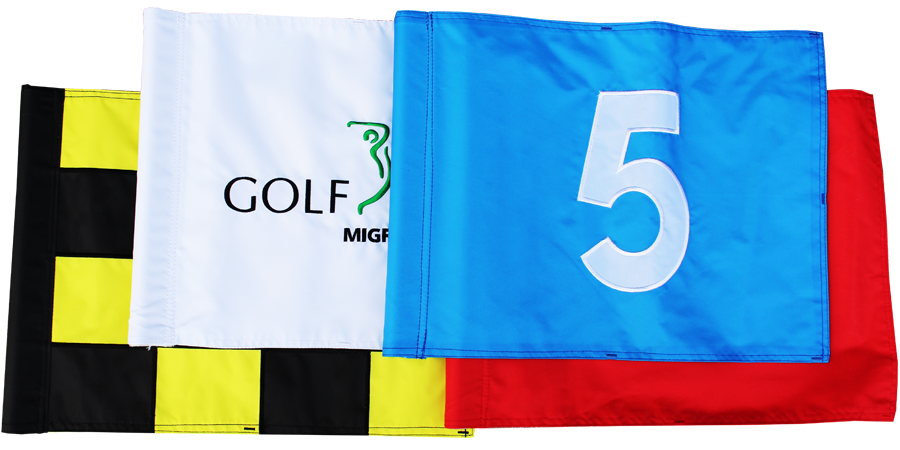 Ordering Green flags
Green flags can be ordered easily:
1. Choose your preferred style;
2. Choose the model and number;
3. Add your personal wishes in the designated field 'remarks';
4. Download your working drawing and complete this, or let us design it for you free of charge:
5. Upload your files;
6. Order your Green flags and pay securely.
Green flag prices
The prices of the Green flags are determined by the style and the number of sets you would like to order. Choose your preferred style, and you will see your price on the product pages. Because of our automated production process, we can supply both small and large quantities of Green flags at very low prices. Golfflags.com supplies competitively priced Green flags of exceptionally good quality.
Why order Green flags at Golfflags.com?
Golf flags are our passion. We do our utmost to keep our customers satisfied and deliver exceptional quality. Golfflags.com stands for:

- Guaranteed top quality;
- Large choice of models, sizes, materials and options;
- Focus on durability;
- Low prices;
- Personal contact;
- Secure payments;
- Fast delivery;
- Simple set-up.
For questions or advice, contact us via +49 (0) 208/88 272 595 or email [email protected].